Mingalaba,
On this website you will find more than one thousand one hundred high quality photos of Myanmar (Burma). No big story, only pictures. If you're interested in Buddhist temples and statues, this is the place to be!
Select the buttons on the right to show photos from different parts of the country or start the slide show and proceed to the end of the photo gallery automatically.


Ever expanding website
This website is a work in progress: I will continue to add many photos of all the places I have been in Myanmar. See for the latest photos the Recently added photos page. On this page you can also subscribe to RSS Feed or page change monitoring and notification services to be instantly informed when new photos are added to this website.
If you encounter a broken link, try Refresh (Reload) to update your browser's cache because pages are reorganised every time when new photos are added.


Display and internet browser adjustment
To view the photos at maximum quality I kindly advise you to visit the Display and internet browser adjustment page (also for other details worth knowing).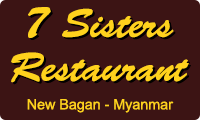 Click on any small photo to show a larger one.
I hope you enjoy the photos!


Henk de Jong
The Netherlands


Please send your email to:


I appreciate your comments or opinions regarding this photo gallery.









Disclaimer Privacy policy Cookie policy



Myanmar (Burma) - Photo Gallery




First appearance: 31 October 2001
Last update: 10 February 2018